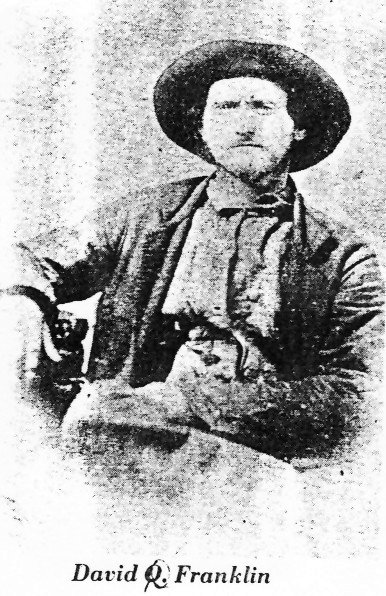 (Pvt. David DeLafayette Franklin Co. B 3rd USVI)
(Great Great Grandfather of Bro. Robert Fickies)
David was the son of David Franklin & Rebecca Schell.
He was born June 1833 in McMinn County, Tennessee.
He Married May Ann Wann about 1853. That marriage was blessed with ten children, including son Isaac William Franklin.
At the outbreak of the Civil War, David Franklin enlisted in Company C, 3rd Regiment (Lillard's) Tennessee Mounted Infantry.
Col. Lillard led the regiment in the Kentucky Campaign, and they saw combat action at Baker's Creek, Big Black, Vicksburg, Morristown, Greenville, Bull's Gap, and in the Valley of Virginia.
David was captured during the Battle of Vicksburg in July, 1863. He was pardoned and exchanged on July 10, 1863. He was once again captured by Union forces in Benton County, TN, in December 1863. This time, he was sent to the infamous Federal Prison Camp in Rock Island, IL. While there, he was admitted to the prison hospital, suffering with smallpox. Later in life, his military pension application would show that he was 75% disabled, with vision, hearing, and back injuries.
While a prisoner-of-war at Rock Island, he enlisted in Company B, 3rd United States Volunteer Infantry, and he served in the Frontier Service of the Northwestern Frontier.
The United States Volunteer Infantry Regiments were made up of former Confederate soldiers who, while prisoners of war, were given the opportunity to leave POW camps in the event they would serve in the United States Army. There was a very difficult process in making this transition from Confederate POW to the ranks of the Union army as a "Galvanized Yankee."
As can be expected, the men knew that by volunteering for the Union army, they would be shunned by their former comrades and, as a matter of fact, after the war, they were frequently shunned by Union and Confederate Veterans alike and most were not granted pensions from the US Government. However, these men endured trials and tribulations well beyond the prisons, and their exploits in the American Territories out west were trying in themselves and, in the end, many of these men did good and loyal service in the name of the United States on its frontier.
David was honorably discharged from Federal service in November, 1865. Thus, David Franklin had the very unusual destinction of serving in both the Confederate and Union Armies during the Civil War, as a "Galvanized Yankee". One of only 6,000 Americans to do so.
David died February 21st, 1901 in Carrollton, Carroll County, Arkansas.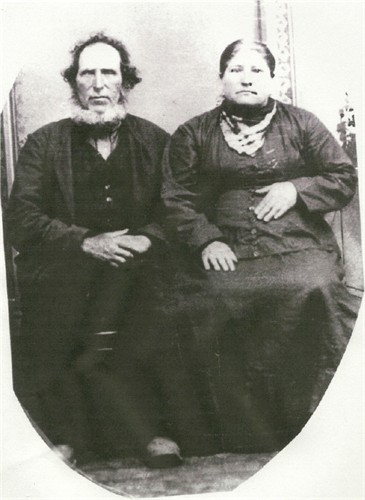 (Pvt. John Matlock Thomason 1st AR Cavalry)
(Great Great Grand Uncle of Bro. Robert Fickies)
John Matlock Thomason was born in Hall County, GA, May 25, 1821, the son of Zemeriah Thomason and Jannett Montgomery.
He married Ladocia Fawcett on February 18, 1841, in Hall County, Georgia. They had nine children: Zemeriah, Rebecca,
James, Mary, Alfred, Jane, Bailey, William, and Jasper.
They moved from Hall County, Georgia to Carroll County, Arkansas before the Civil War.
Although Arkansas joined the Confederacy in 1861, not all of its citizens were committed to the new nation.
Support for the Federal government remained strong in the northwest corner of the state, and many Arkansans were eager to defend the Union.
Although the Unionists were a minority in the state, Arkansas still furnished approximately 10,000 men for the Northern armies.
One among those was John M. Thomason,
who, at the age of 41, joined Co. 'M', of the first Arkansas Cavalry in 1862.
The First Arkansas Cavalry became the most famous Union regiment raised from the state.
After being mustered into service at Springfield, Missouri, in July 1862, the regiment returned to Arkansas and operated as a counter-guerrilla force.
John passed away on Dec. 12, 1901, in Labette County Kansas. He is buried in Harmony Grave Cemetery in Dennis Kansas.

©
(glwillard154.org and suvcw154.org)
Col. George L. Willard Camp #154 Albany,NY SUVCW
No material or contents are to be copied, reproduced or linked without the express written consent of the
Camp Commander
and Webmaster.