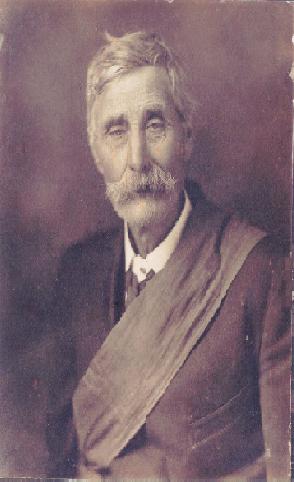 (Pvt. Pvt. Thomas M. McPeek, Co. H 12th Ind. Vol. Inf.;
Great Great Grandfather of Bro. Richard C. Saunders Jr.)
Thomas McPeek was born in Clarke County Indiana near Henryville, on 17 March 1848 to John Wesley McPeek and Mary Elizabeth Lewellyn.
Enlisted/Mustered in 17 Aug 1862, Discharged/Mustered out 8 June 1865 of Company H, 12th Regiment, Indiana Infantry. Although his military record states he was 18 years old when he enlisted, he was actually 15 (his obituary says he was 14), and when discharged he was still 18 years old.
The Regiment's first battle was Richmond, KY, only after two days of service, the inexperienced northern troops which included the 12th Indiana collided with an experienced and larger southern force at Richmond. This was the most decisive battle victory for the Confederate forces during the war and one of the worst for union forces. Of the nearly 6500 Union troops, about 4300 were taken prisoner and over 100 killed as compared to the Confederates who lost 128 men in total.
Thomas was one of those who were taken prisoner at Richmond, and was then paroled the next day to return to Indianapolis. They remained there until 17 November 1862 until their exchange allowed them to return to the war.
On 20 November 1862 ther were ordered to Memphis to take part in the coming battles for Vicksburg under General Grant. After spending the winter of 1862 and the spring of 1863 in camps in northern Mississippi and Tennessee guarding the railroad supplying Grant's army, the regiment was ordered to Vicksburg on 9 June as part of a blocking force, placed north of Vicksburg to prevent Gen. Johnson' army from relieving Vicksburg. Their actions were successful and Vicksburg fell on 4 July 1863.
The regiment, now a part of Sherman's 15th Army Corp, then left the Vicksburg area on the same day (4 July 1863) to pursue Johnson's army beyond Jackson, the town was partially destroyed, after which the regiment returned to Vicksburg for a period of rest.
At the end of September 1863 the regiment was sent to northern Alabama to safeguard the Memphis and Charleston railway. On 23 October, 1863, with the rest of Sherman's army, the regiment began marching toward Chattanooga, now besieged by a southern army. They arrived in the Chattanooga area late in November. The regiment participated in the battle of Missionary Ridge, freeing Chattanooga from the southern army and opening the way to Atlanta.
On 28 November 1863 the regiment was sent to the relief of Knoxville, TN then under attack by another southern army. After a grueling march of nearly 100 miles, Knoxville was relieved an the regiment returned to Scottsboro, AL where they remained until the beginning of Sheman's Atlanta Campaign in May 1864.
On May 1st, the regiment, as part of the 15th Corps in Sherman's Army, began a period of continuous fighting in the move towards Atlanta. The regiment fought at the Battle of Resaca (May 8-15th), at the Battles near Dallas, New Hope Church and Altoona Hills (May 25- June 6th), at Brush Mountain (6/15), the assault on Kennesaw Mountain (6/27), Chattahoochee River (July 5-17th), Battle of Atlanta (7/22), and the siege of Atlanta (7/22 - 8/25).
Additional actions for the regiment were at the Battle of Ezra Chapel (7/28) and the Battle of Jonesboro (8/31 – 9/1). After the fall of Atlanta, the regiment was sent in pursuit of the defeated Southern Army in Northern Georgia and Alabama until 3 November 1864 when they returned to the Atlanta area to rejoin the rest of Sherman's Army.
The Regiment began its March to the Sea through Georgia on 15 November 1864 as a part of the southern wing of Sherman's Army. They arrived in the Savannah area 10 December and helped to capture Savannah on 21 December 1864.
By early January 1865 they had left Savannah and began marching north through the Carolina's in pursuit of General Johnson's Southern Army. Throughout February and March, the regiment fought and marched northwards finally capturing Raleigh, NC on 14 April. They received the surrender of Johnson's Army on the same day.
The Regiment (and Sherman's Army) then marched leisurely north to Washington, DC via Richmond, VA, now occupied by the North (nearly three years after they started their journey). They arrived in Washington on 20 May and marched on the 2nd day (24 May) in the Grand March and Review as part of Sherman's Army of the West (the Army of the Potamac marched the first day). Interestingly, the 12th Indiana Infantry was the very first unit to march out on the 24th as part of Sherman's Army of over 100,000. men.
Most of the regiment, including Thomas McPeek, were mustered out of service on 5 June 1865 in Washington, D.C. and left the next day for Indianapolis via railroad, river steamer, and by marching. They arrived in Indianapolis on 14 June. After a public reception (and assorted festivities) the regiment received its final pay on 20 June and its members returned to their respective homes.
Thomas' service record notes that he was taken prisoner at Richmond and had been paroled by October 1862. The record for November and December 1863 note that he is absent, but "On extra or daily duty".
From December 1963 to January 1864 he was absent teamster driving ambulance Bridgeport, Alabama.
Thomas had moved to Missouri in 1866 and located near Mooresville. He wed Susan Francis (Fanny) Gregg, the daughter of William Gregg and Catherine Hayes on 18 October 1871 and together they had eight children, John William, Earnest Henry, Nick, David Arthur, Cloren Albert, Thomas Francis, and two children who died in infancy. Fanny died on 27 July 1894 and he married again to Amanda Elizabeth Balky on 22 November 1897 and together they had four children, Ben Curtis, Leslie Robert, Mary Jerusha, and George Washington.
Thomas died 8 January 1926 and his obituary noted that he was "always a patriot, not only while serving his country in the ranks of war in defense of the country but all these years since he marched down Pennsylvania Avenue in Washington, when he was honorably mustered out of service.
He loved his country and his comrades of the G.A.R. and was always among the most active in honoring the memory of his deceased comrades on Memorial Day. He was a member of the I.O.O.F Lodge No. 291 (Odd Fellows) for 47 years, being the oldest resident member. The Lodge also issued Resolutions of Respect for Thomas, both published in the newspaper and formally delivered to his family, "RESOLVED, That Breckenridge Lodge No. 291, I.O.O.F., in testimony of its loss, be draped in mourning for thirty days, and that we tender to the family our deep affliction, and that a copy of these resolutions be sent to the family."
He was also one of the most active members of the Isom Keith G.A.R. Post until its disbanding and was very active in ceremonial patriotic activities such as parades for Memorial Day in the Breckenridge Area.
A photographic collage was created on Decoration Day 1915 featuring Civil War Veterans from Caldwell, Daviess, and Livingston Counties in Missouri. This photographic collage was later published in the Breckenridge Bulletin for an article on 29 November 1935,
noting that only one of the group was still living.

©
(glwillard154.org and suvcw154.org)
Col. George L. Willard Camp #154 Albany,NY SUVCW
No material or contents are to be copied, reproduced or linked without the express written consent of the
Camp Commander
and Webmaster.