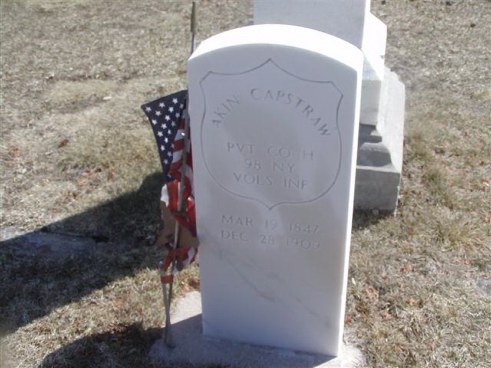 (Pvt. Aiken Capstraw, Co. H 98th NY Vol. Inf.
2nd Great Grand Uncle of Brother Thomas Capstraw)
Born in Westville, NY on March 19th, 1847, Enlisted 28th December 1863.
He was a member of the Army of the James, under General Butler. He Lost his Left Leg Above the Knee, wounded and amputated on the battlefield.
Having been wounded during the 2nd Battle of Drewey Bluff (Fort Darling) on May 14th, 1864.
His Rehabilitation was at an Army Hospital in Washington D.C.
He was Discharged October 18th, 1864
After Discharge, he moved to Cheboygan, Michigan, his trade was a Shoemaker.
He Died December 28th, 1909 and was Buried at Calvary Cemetery, Cheboygan, Michigan, Lot. A4, Section Annex 9.
He was a Member of the G.A.R. A replacement military marker was placed by his Great Grand Nephew in 2000.

©
(glwillard154.org and suvcw154.org)
Col. George L. Willard Camp #154 Albany,NY SUVCW
No material or contents are to be copied, reproduced or linked without the express written consent of the
Camp Commander
and Webmaster.