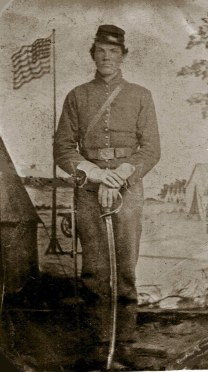 (Sgt. Daniel Smith, Co. B, 24th New York Cav.)
Great Grandfather of Bro. D.E.Smith
1897 Jun. 26th:
Daniel deceased and is buried in lot #88, Burlington Cemetery, on
Rt 60 Calhoun Co. Michigan. The plot is 20x10' and includes 4 other smaller 8x4" markers without inscription. His stone is marked:
DAN'L SMITH
CO. B
24TH N.Y.CAV
Dan's stone was reset on a concrete base May 1991.
(Burlington Cemetery, Michigan)
~~~~~~~~~~~~~~~~~~~~~~~~~~~~~~~~~~~~~~~~~~~~~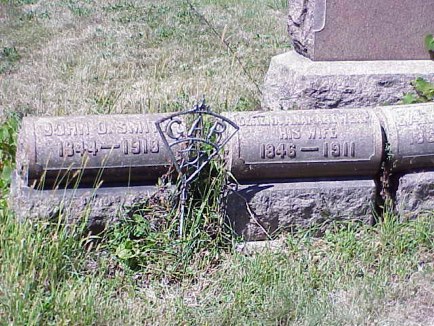 (John Deloss Smith lot 138 Sect 201 of Albany Rural.)
Sep. 6th, 1862: John Deloss Smith enlists at Springfield for 3 years.
October 15th, 1862; John is mustered in with 100 men, as a private in Company "D", 152d Regiment of Volunteers at a camp on the Schuyler farm, near the village of Mohawk, NY, under Cap. P.D.Fry. John is described as a farmer having blue eyes, sandy hair and being 5'-4" tall.
Feb. 18th, 1863: John Deloss is a patient at Finley Hospital, Washington, DC ( through Nov.)
John Deloss Smith is wounded this day near the intersection of the Block & Plank Road at the Battle of the Wilderness. Is reported at Cuyler USA General Hospital, Germantown, Philadelphia, PA. late May through July 7, 1864. He has lost the left thumb, has fractured right arm, injured back (inward breach), right side and right leg.
By his own description: "after serving two years was wounded by a piece of shell in the arm."

©
(glwillard154.org and suvcw154.org)
Col. George L. Willard Camp #154 Albany,NY SUVCW
No material or contents are to be copied, reproduced or linked without the express written consent of the
Camp Commander
and Webmaster.