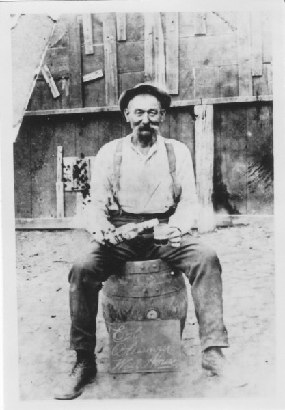 (Pvt. Martin Blessinger, Co F, 45th NYVI)
Great Great Grandfather of Bro. William J. Halpin, PCC
Martin Blessinger enlisted in the 45th New York Volunteer Infantry on September 9, 1861 as a private. The Regiment was composed of mostly German immigrants and first generation German-Americans from New York City and was called the "Fifth German Rifles." They were armed with M1841 rifles manufactured by Remington with lugs added to take a sword bayonet. The regiment participated in the major battles of Cross Keys, Chancellorsville, Second Bull Run and Gettysburg as well as many lesser battles and skirmishes. Martin was wounded at the Battle of Gettysburg. Due to losses, the 45th was consolidated with the 58th New York in June 1865, and Martin was discharged from that unit in October 1865. After the war he was active in the GAR. He is buried in the Lutheran Cemetery, Middle Village, New York.

©
(glwillard154.org and suvcw154.org)
Col. George L. Willard Camp #154 Albany,NY SUVCW
No material or contents are to be copied, reproduced or linked without the express written consent of the
Camp Commander
and Webmaster.