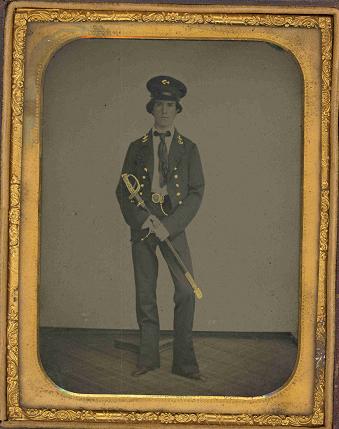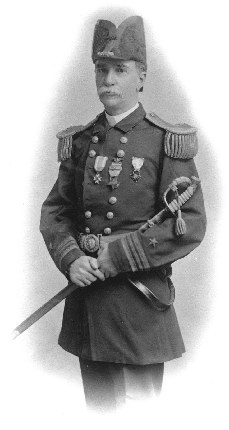 Left: (Midshipman, Antoine De Reilhe McNair)
Right: (Com.mander Antoine De Reilhe McNair, US Navy)
Great Great Grandfather of Bro. Douglass Mabee
Com.mander Antoine De Reilhe McNair was a brave and distinguished naval officer of the late civil war, whose meritorious services along the south Atlantic coast, in confronting the Merrimac and other Confederate rams, and in the attack on Fort Sumter, and the capture of Fort Fisher, won him rapid promotion from midshipman through the successive grades to the rank of lieutenant commander. He is a son of Antoine de Reilhe and Elvina (Johnson) McNair, and was born in the city of New Orleans, Louisiana, September 15,1839. The McNair family was one of the Scotch Covenanter families of Scotland, that in 1719 constituted the first shipload of that wonderful, self-reliant people that came to what is now the United States. They sought a land where they would be free from religious persecution, and could worship God according to the dictates of their conscience. The McNairs settled in the vicinity of Fort Mifflin, near Philadelphia, and half a century later, when the long smouldering embers of discontent and dissatisfaction burst out into the kindling flames of revolt and revolution, Lt. David McNair, a member of this pioneer McNair family, drew his sword in the cause of the Thirteen Colonies. He was an officer in the Pennsylvania line and crossed the Delaware with Washington, to fall mortally wounded at the battle of Trenton. He married a Miss Stewart, who, after his death, took their son, Alexander, to Wilkensburg, near Pittsburg, Pennsylvania. Alexander McNair was born in 1774, in what is now Dauphin county, Pennsylvania, and died in St. Louis, Missouri, March 18, 1826. He served in the whisky insurrection and in several Indian campaigns, and in 1799 became an ensign in the United States army, and in 1804 removed to St. Louis. He served as colonel of the" Missouri Rangers," in the war of 1812, and when Missouri became a State (1821), he was elected as its first governor. He served as governor from 1821 to 1824. With Mr. Choteau and Mr. John Cabanne, organized the Missouri (now American) Fur Company, whose patriotic object was to prevent the Hudson Bay Company from securing the fur trade along- and west of the Rocky Mountains. Governor McNair married Margarette de Reilhe, the daughter of a French nobleman, and their eldest son, Lt. Antoine de Reilhe McNair (father), entered the United States army and was crippled for life by a severe wound received in the Black Hawk war (1832). His two brothers, Alexander and LaFayette, fell in the Mexican war. Lieutenant McNair died in St. Louis in 1871, at sixty-two years of age. He married Elvina Johnson, who was a member of the same old Georgia Johnson family as the celebrated Hershel V. Johnson, of that State. Mrs. McNair died in St. Louis, Missouri, in 1843, and left one child, the subject of this sketch.
Antoine de Reilhe McNair was reared in Louisiana and Missouri, and was appointed from the latter State, on September 22, 1856, as acting midshipman to the United States Naval academy at Annapolis, Maryland, from which he was one of the twenty-five only that were graduated in 1860, out of a class of one hundred. He served on the sloop of war Preble in 1857, and on the sloop of war Plymouth in 1859, and on June 15, 1860, was promoted to midshipman. He then served on the sloop of war Seminole from July, 1860, to July I, 1862, and during that time was principally engaged as follows: On general duty (Brazil and South America) from July, 1860, to July, 1861; blockade duty off Charleston harbor, August and September, 1861; in the Potomac river, attacking the Confederate batteries at Freestone Point and Evansport, Virginia, September and October; battle of Port Royal, splinter wound in hand, November 7; boat service in the sounds of South Carolina and Georgia, November and December; boat and other operations incidental to the cutting off of Fort Pulaski, January, February and March, 1862; expedition to Fernandina, Florida, and attack on Skiddeway battery, March; Hampton Roads, in front of rebel ram Merrimac and consorts, March, April and May; and attack on Sewell's Point battery and capture of Norfolk, May, 1862.
Antoine de R. McNair was made master in August, 1861, was promoted to lieutenant July, 1862, and served on the sloop of war Powhatan from July, 1862, to June, 1864, during which time he was engaged principally as follows: General service at the front, July, 1862, to April, 1863; attack on Fort Sumter and defenses of Charleston, April, 1863; capture of Morris Island batteries, where he was slightly wounded in the head, July, 1863; attack on Charleston, September 8, 1863; and service in the West Indies, convoying. United States mail steamers and searching for the Florida and Alabama, from October, 1863, to June, 1864.
From June to August, 1864, Lieutenant McNair commanded the United States Steamer Gemsbock, in the \Vest Indies, and then returned to the Powhatan, on which he served until October, 1864. He was then transferred to the frigate New Ironsides, on which he served from October, 1864, to April, 1865, and during that time was engaged principally, as follows: First battle of Fort Fisher, December 24 and 25, 1864; capture of Fort Fisher and defenses of Cape Fear river, battles of January 13, 14 and 15, 1865; and in front of Confederate rams, in James river, in February and March, 1865, and surrender of Richmond, Virginia. He served on the steamer Chilcopee, of the Atlantic squadron, from May, 1865, to July, 1866; when he was promoted for meritorious services in the late war to the rank of lieutenant commander. He was instructor at the United States naval academy during 1866-7, and then returned to active service in the navy.
Lieutenant Commander McNair served on the frigate Minnesota, in 1867-68; flag ship Contocook, West India squadron, 1868; frigate Franklin, European squadron, 1869, and was off duty on sick leave in 1870. In 1871 he returned to duty, and during that year served as inspector of supplies at Norfolk navy yard, but the next year was compelled by the impaired state of his health to appear before the retiring board for retirement, and accordingly was retired October 26, 1872, for "incapacity from an injury received in the line of duty while serving in 1868 on board the United States Steamer Contotook, in the West Indies."
On December 13, 1871, Commander McNair Was united in marriage with Frances Clarke, daughter of Benedict Clarke, of Saratoga Springs. To their union have been born two children: Frederick Park, Jessie and Alexander.
Since retiring from the navy, Commander McNair has resided at Saratoga Springs. He still keeps up his interest in naval affairs, and after coming to Saratoga Springs spent four years at Harvard university, where he took one of the post graduate courses of that celebrated institution, and devoted his time chiefly to scientific studies relating to geology, the geology of the sea-floor, and deep sea measurements. He is a companion of the Pennsylvania Commandery of the Military Order of the Loyal Legion, and of the Luther M. Wheeler Post, No. 92, Grand Army of the Republic. He is a strong democrat in politics, and has entered upon his second term as a member of the board of education.
For four generations members of the McNair family have served with distinction in the army of the United States, and Commander Antoine de Reilhe McNair is its worthy representative in the navy. Commander McNair is a fluent and interesting talker, not only concerning naval affairs, but upon all the current issues of the day. He is a pleasant and courteous gentleman, of the old school, distinguished alike for his high sense of honor and generous hospitality, as well as his military ability and efficient naval service."
(From: Biography And History of Saratoga County, 1898)
(Grave at GreenRidge Cemetery, Saratoga Springs, NY)

©
(glwillard154.org and suvcw154.org)
Col. George L. Willard Camp #154 Albany,NY SUVCW
No material or contents are to be copied, reproduced or linked without the express written consent of the
Camp Commander
and Webmaster.