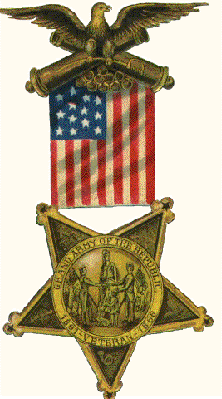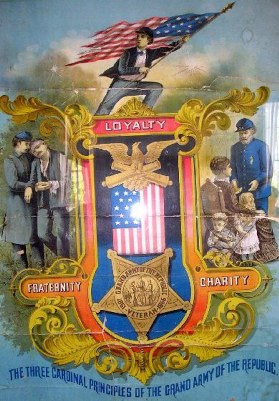 (GAR Membership Medal/GAR; FCL Poster)
The Sons of Union Veterans of the Civil War (SV/SUV/SUVCW) was established by the Grand Army of the Republic (GAR) to perpuate the memory of the sacrifices of Union soldiers and sailors during the Civil War. It is a national organization composed of the male direct descendants of Union soldiers and Sailors, although males who are not descendants may join as Associate Members.
Designated by the GAR as its successor organization in 1931, and chartered by Congress as a charitable, educational organization in 1954,
the SUV continues the patriotic work of the GAR.
Each member is sworn to carry on the ideals of patriotism and fraternity laid down by his ancestors.
The basic level of organization of the SUV is the camp headed by a Camp Commander.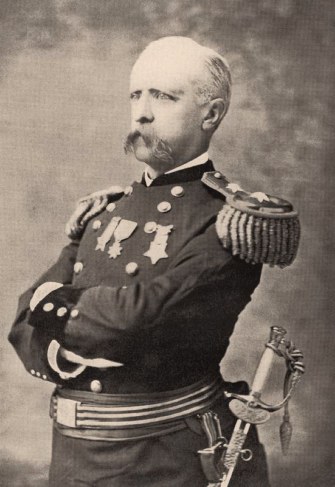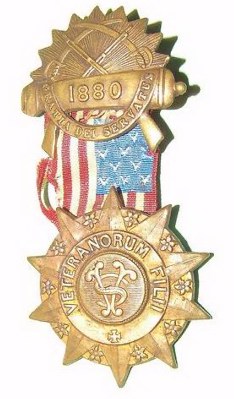 (L-Col. Frederick Townsend Namesake- (Courtesy of the Albany institute of History and Art)
C-Sons Of Veterans Original Membership Medals,
R-Earl W. Smith, 1878 SV Band Mbr.Townsend Post No.1 SV Albany,NY)
The Local Sons of Civil War Veterans affiliation with the G.A.R. began in Albany,NY
with the formation of the Col. Fredrick Townsend Post No. 1 SV in 1878.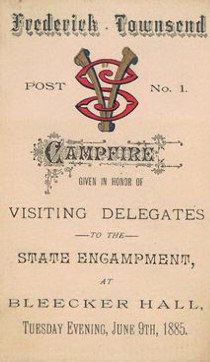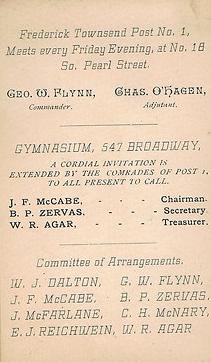 They were referred to as the Sons of Veterans "S.V.".
In 1881 a National Sons of Union Veterans was established, followed in 1883 by the formation of the NY Department.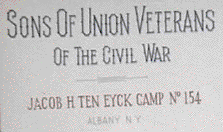 (Maj. Jacob H. Ten Eyck, Courtesy of the Albany Institute of History and Art )
In 1894 the Jacob H. Ten Eyck Camp #154 (Sons of Union Veterans of the Civil War)SUV was Instituted from the
Col. Frederick Townsend Post No.1 SV. Following on Christmas Day in 1899 the Ten Eyck Camp was Chartered.
The camp number #154 being chosen in memory of the Hard Tack Regiment, the 154th NY Volunteer Infantry
in which Jacob H. Ten Eyck briefly served as Major.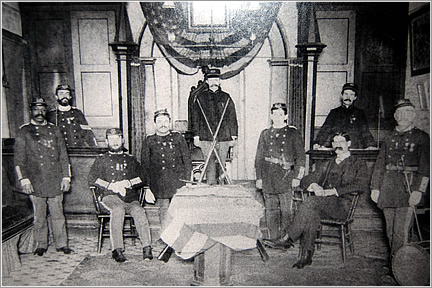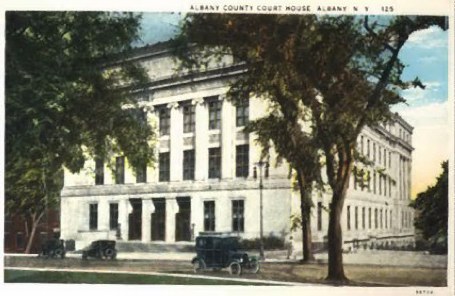 (L-Unknown Dated Photo of Col. Townsend Post No. 1 Officers and R-Albany County Courthouse)
The Camp's Headquarters were at the GAR Room at the Albany County Courthouse; where the GAR
maintained a private Entrance to the Courthouse for use for its members and auxiliaries off Elk Street.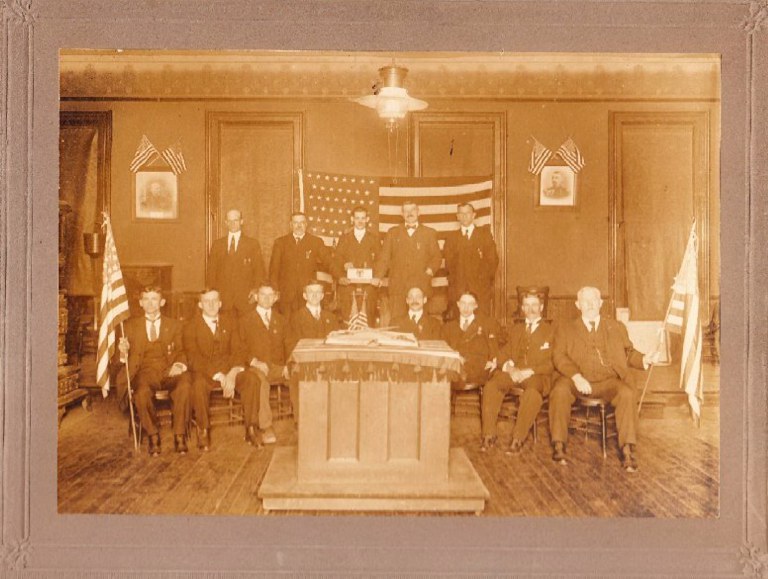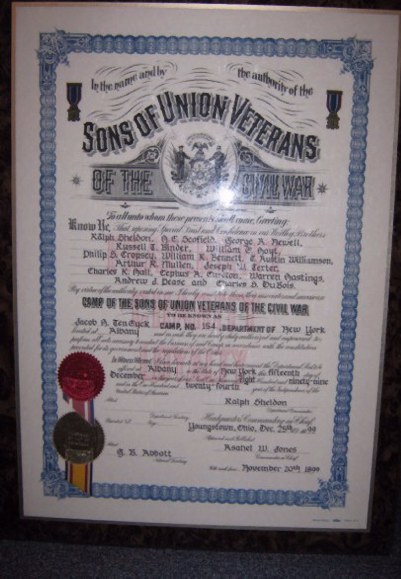 (Jacob H. Ten Eyck Camp No.154 SUV Ca.1914 Albany County Courthouse, Albany,NY and Ten Eyck Camp Charter #154)
Jacob H. Ten Eyck was born in Albany and attended Albany Academy. He served in 1861 in Co. "G", of the 3rd NY Vols., was commissioned a captain in the State militia and was mustered into U.S. service. He served nearly two years, being promoted major of the 154th NY Vols., and stationed in Virginia with the 11th Corps.
He resigned in 1864 on account of ill health and since the war was a commissary of the 10th NY.
He was a leader in the community and in the Masonic.
Camp Jacob H. Ten Eyck No.154 Charter Members, Chartered: December 25th, 1899:
Ralph Sheldon, A.E. Scofield, George A. Newell,
Russell T. Binder, William E. Hoyt,
Philip H. Cropsey, William K. Bennett, E. Austin Williamson,
Arthur R. Mullen, Joseph W. Ferter,
Charles K. Hall, Cephus A. Curvlon, Warren Hastings,
Andrew J. Pease, and Charles D. DuBois.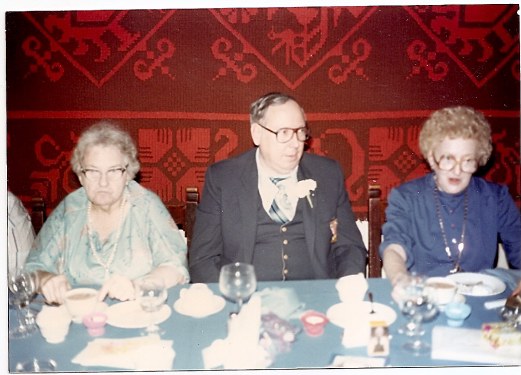 NY Department Dinner; circa 1970s
They are: Left to Right -
Sister Nellie Halligan #154 Women's Aux. Dept Secretary,
Dept. Cmdr. Bro.Robert Gregory, PDC, Sister Frances Ganley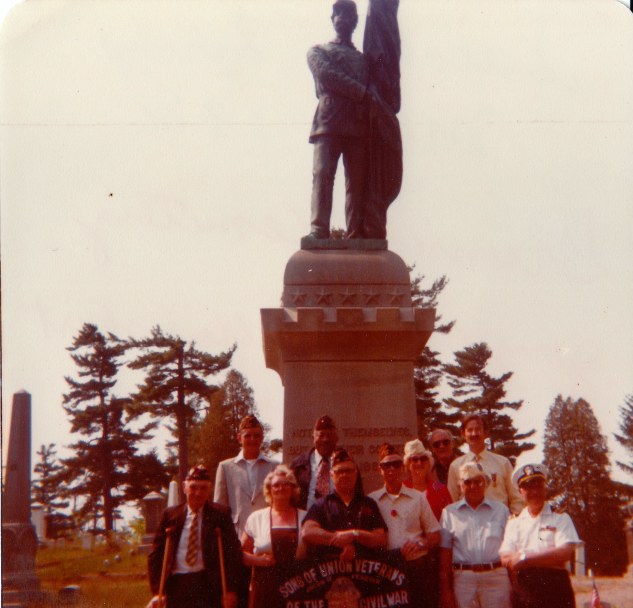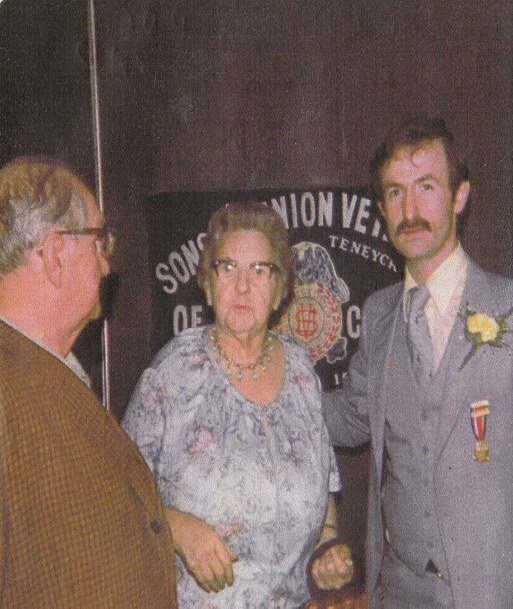 Camp Memorial Day Service, May 1981; GreenRidge Cemetery, Saratoga Springs,
Pictured are Brothers and Sisters of the SUVCW and SSAWV.
African American Man is Mr. Richard "Dick" Evans, PNP, Sons of Spanish-American War Veterans.
L-R-Bro. John Kernan, PDC,PCC Sister Nellie Halligan, PAP, Bro. Jerry Orton, PDC,PCC; Taken Circa 1980.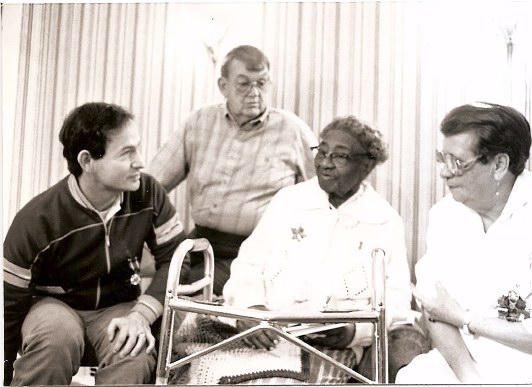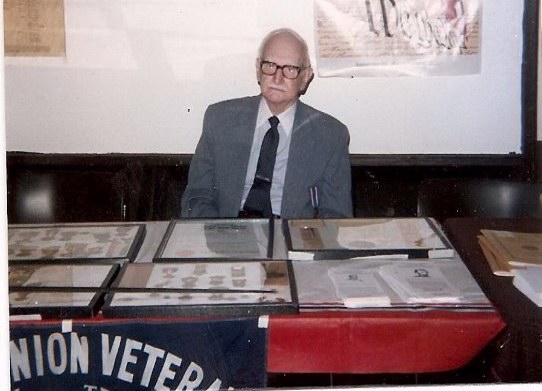 Left-Bro. Jerry Orton, PCC, PDC meeting with the
Last Union Civil War Widow of Kansas;
a Mrs. Mattie Brown; Picture taken Thanksgiving 1986; She passed away January 28th,1988
Right-Bro. Stanley Trimble, PCC manning the Camp Recruiting Table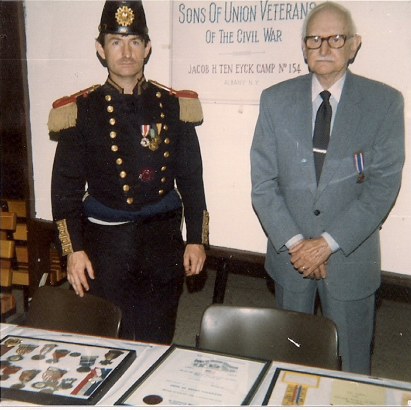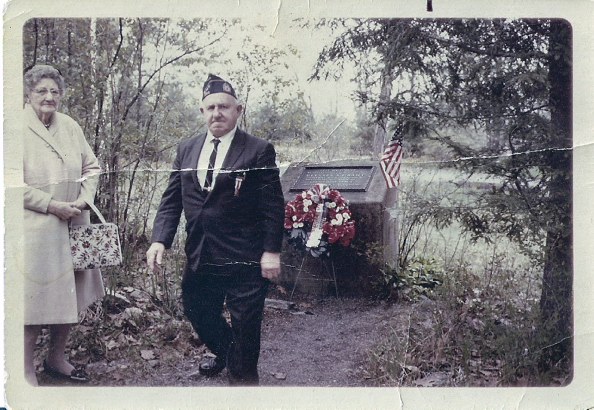 At Left PDC,PCC Jerry Orton and PCC Stanley Trimble Manning Camp Recruiting Table
At Right, PDC,[PCC Robert Wagoner Laying a Wreath at Grant's Cottage in 1973
In 1993 the camp voted to change its name to the Colonel George L. Willard Camp #154.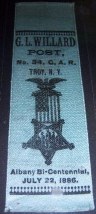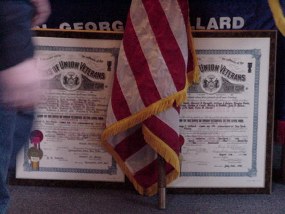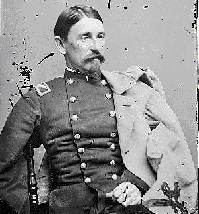 Left-G.L.Willard G.A.R. Post No.34 Troy,NY Ribbon, Camp Charters, L-Ten Eyck, R-Willard, R-Col.Willard,
Far Right: GAR Ribbon Commemorating the GAR Soldiers/Sailors Monument in Troy for Rensselaer County)
Willard being considered a local hero, who gave his life in the performance of his duty at Gettysburg at the head of his regiment to the Union
and deserving of present day recognition. Col. Willard was honored with a Troy G.A.R Post in his Namesake; the G.L. Willard Post No.34 of Troy;
The G.L. Willard Post of Troy was Vital in Erecting the Troy Monument.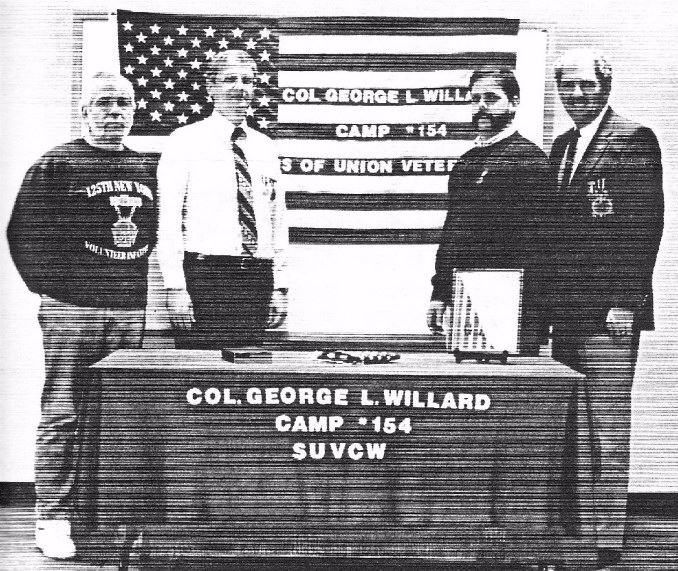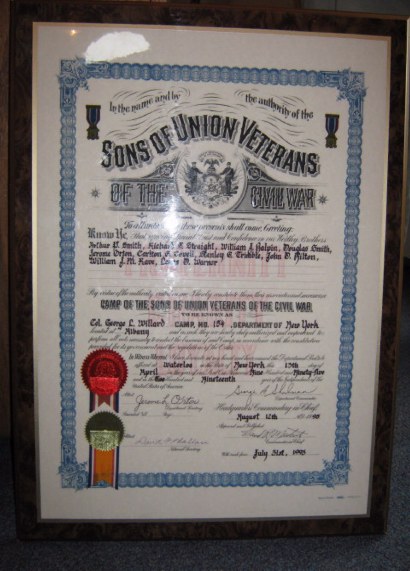 1994-1995 Camp Officers; It was in 1994 the Camp Officially Changed the Name of the Camp.
Brothers (L to R): Richard Straight, SVC, William Halpin, CC, Lew Warner, Douglas E. Smith, PCC, Sec/Treas. and
(Col. Willard Camp #154 Charter)
Camp Col. George L. Willard No.154 Charter Members, Chartered: August 12th, 1995:
Arthur P. Smith, Richard E. Straight, William J. Halpin, Douglas Smith,
Jerome Orton, Carlton E. Covell, Stanley E. Trimble, John D. Hilton,
William J.M. Rave, Lewis D. Warner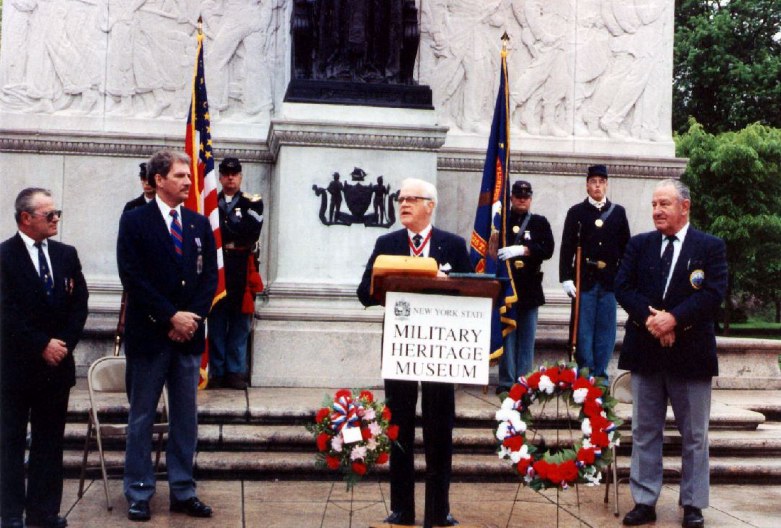 In 1993 the SUVCW had a day long event in Albany to mark the 125th Anniversary of the GAR in NYS.
The Camp visited Albany's Washington Park and held a ceremony at the NYS CW memorial
that Late Bro. Art Smith's Grandfather Oscar Smith dedicated.
This is From Left to Right--Bro. Danny Wheeler,PCC, PDC, PCinC, DC Doug Smith, PDC, PCC and PCinC Lowell Hammer.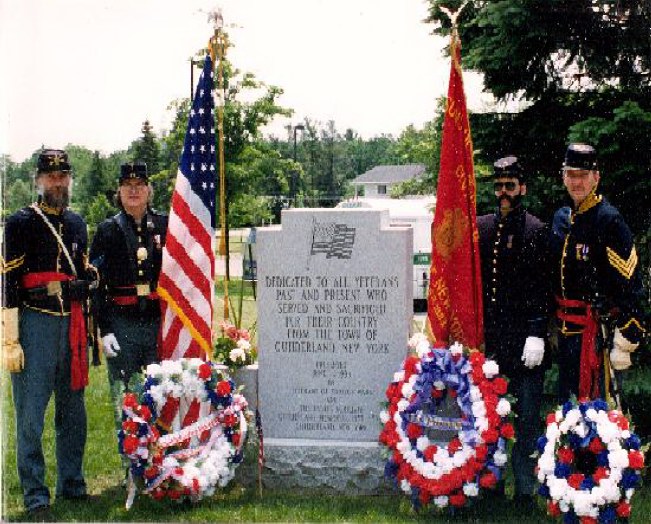 Left-1994- Camp Recruiting at Crossgates Mall, Right-Camp Memorial Day Color Guard Service in Guilderland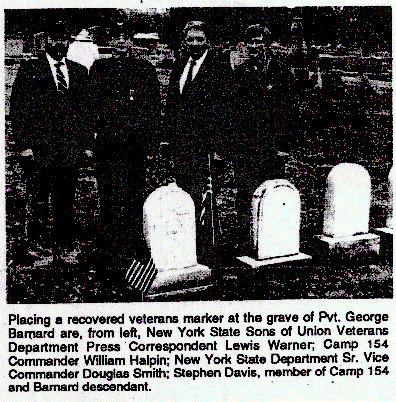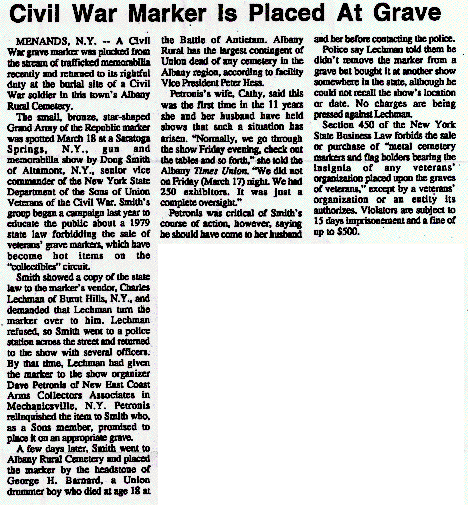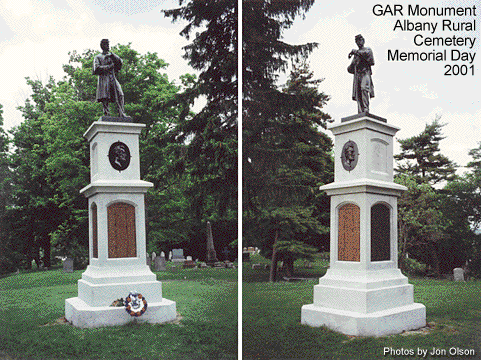 (On Memorial Day 2001; The Camp Completed its Restoration Project
of the GAR Monument at the GAR Lot at the Albany Rural Cemetery.)
Locally the Camp performs such civic functions as Restoring Civil War Monuments, Monitoring Cemeteries concerning the condition of Civil War Veterans Graves, and other patriotic works including annual Memorial Day Ceremonies.
Left: (Albany Civil War Heritage Day 2006)
Right: (Pvt. Smullen Grave Dedication, St. Agnes Cemetery, 2007)
(2010 Albany GAR Room Plaque Dedication)
The Camp continues to meet in Albany to this Day and continues to serve the Capital District through living histories, memorial services, parades and educational displays in keeping green the memories of our forefathers the veterans of 1861-65.

©
(glwillard154.org and suvcw154.org)
Col. George L. Willard Camp #154 Albany,NY SUVCW
No material or contents are to be copied, reproduced or linked without the express written consent of the
Camp Commander
and Webmaster.